The Professional's Choice
NĀ WAHINE TOA FOUNDATION Maui wildfires fundraiser - Click Here - #realgoodkarma
Our Story
dear yogis,
Thank you for being part of our gregarious and ever-growing community. We at Kulae value being transparent, communicative, and approachable! Kulae is the definition of a small business. We are a crew of 3 handling every aspect of running a business up to and including fulfilling your orders. We hold our Mission and Values close to heart and strive every day to live by them along with the meaning of our name, Kulae. Here is some basic information about who we are and what we stand for – feel free to contact us with any questions or comments!
Namaste,
The Kulae Crew
OUR MISSION
Our mission is to provide eco-friendly yoga products in order to create a collaborative and inclusive community that inspires a healthy lifestyle.
We know that everyone deserves to feel happy and healthy. Our planet does too. We wish to build a more positive world where yoga can truly be for every body without taxing our planet. At Kulae, we are on a twofold mission to provide the most stylish and eco-friendly yoga gear on the planet while truly living by our mantra: #realgoodkarma
We believe that karma is real, and we want to create and propagate some real and really good karma — or as Jeff, a Boston native, would summarily say: real good karma. But what do we mean by that? Karma gets a lot of bad press these days, being equated with revenge and comeuppance and other negative mindsets and intents. But when we talk about karma, we're referring to its original Vedic context: the sum of a person's actions. We believe that it is important to extend compassion, understanding, and goodwill to the planet and all of its inhabitants, wherever we are and regardless of the situation – and this includes to ourselves! This is the essence of creating and spreading real good karma, and is a habit the Kulae Crew strives to practice every single day.
Our Values
We believe that karma is real and wish to build a more positive world where yoga can truly be for everyone without taxing our planet. Kulae subscribes to the tenets of kula (community), yoga (to unite), and karma (the net balance of a person's actions) and sees these elements as the path to a more peaceful, caring, healthy world. We warmly invite you to join Kulae in uniting our collective communities in good karma with the beautiful and constructive practice of yoga.
OUR NAME
KULAE
Pronunciation: COOL-eye
What it means: the name Kulae was derived from the Sanskrit word kula, which means "community." Adding the letter "e" to the end of a word in Sanskrit pluralizes it like the letter "s" often does in English – essentially, we turned "community" into "communities."
We chose the name "Kulae" with our mission and mantra in mind: we want to help bring communities together through yoga and good karma, helping to maintain healthy people on a healthy planet.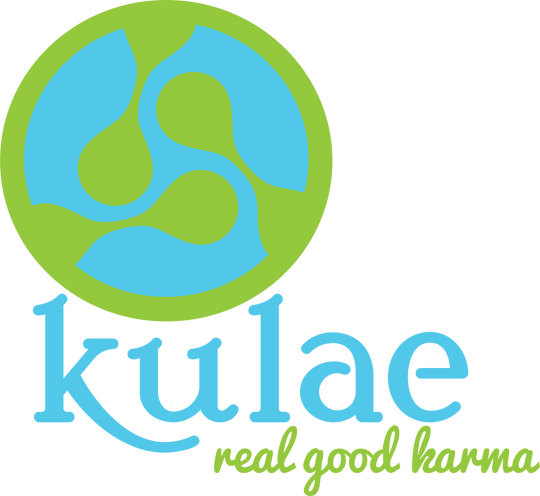 OUR LOGO
Our logo contains a mix of cultural influences, a mélange of symbolism that comes together to represent our brand and everything we aim to stand for. We call it the Kulaedoscope. Blue and green are the colors associated with our lovely planet, and its circular shape represents community, continuity, and dedication. But most importantly, the Kulae logo can mean whatever you want it to mean! It is open to your interpretation, so you can reflect your own values and (real good) karma onto our design.